Tropical Storm Cristobal's outer bands, packing high winds and rain, swirled across the Louisiana coastline Sunday morning, delivering heavy rain and strong wind gusts in numerous locations. The storm's eye is headed to a landfall just west of Grand Isle near 1 p.m., and  to make landfall south of Houma after 1 p.m., with top winds of 50 mph and gusts to 65.
Forecasters warned that the storm finally seemed to be getting its tropical act together, and might have a few intensity surprises in the works just before it makes landfall, including an increased chance of flash flooding in southeast Louisiana and the Mississippi coast.
"Cristobal's inner-core remains disorganized as multiple low-level circulations are seen rotating around the mean center used in the advisory," said Senior Hurricane Specialist Stacy Stewart in a 10 a.m. forecast discussion message. "A large swirl just west of the alleged center has been dropping southward, and this could become a new center of circulation later today." 
Because of the uncertainty of what exactly is the storm's center, Stewart warned of some erratic motion in its trek across southeastern Louisiana. That has led to a slight shift east of its forecast track. It should slowly move north to a point just north of LaPlace by 7 p.m. Cristobal will then slowly weaken to a tropical depression by the time it gets to a point between Monroe and Vicksburg, Miss., by 7 a.m. Monday, still with winds of 35 mph. 
Forecasters continue to warn that, although the storm has not intensified, Cristobal continues to pose a significant threat for heavy rainfall, storm surge of as much as 6 feet above ground level outside of hurricane levees, and for tropical-storm-force winds. The Weather Prediction Center has listed the area east of Interstate 55 in Louisiana, stretching through south Mississippi as being at unusual high risk of flash flooding through Monday.
But Cristobal continues to be fairly disorganized, and is expected to stay that way until making landfall.
Can't see radar below? Click here.
"The continued broad structure of Cristobal and significant dry air entrainment should prevent any significant intensification before landfall," Stewart said. But while the center should be well inland 12 hours after landfall, Stewart said winds could remain at 50 mph on its eastern side as far south as Lakes Pontchartrain and Maurepas and Chandeleur Sound in Louisiana, and the Mississippi and Alabama coasts.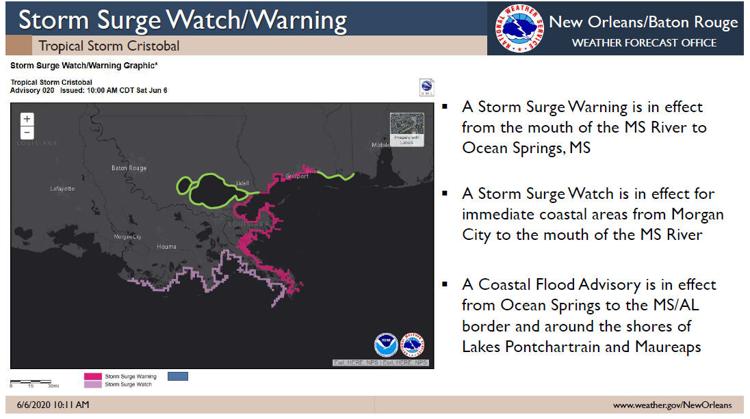 Where is Tropical Storm Cristobal?
At 10 a.m., Cristobal's center was about 90 miles south of New Orleans, with maximum sustained winds of 50 mph, still moving directly north at 12 mph.
At 9 a.m., New Orleans Lakefront Airport was seeing sustained winds of 35 mph and wind gusts as high as 43 mph, above tropical storm strength, while Houma measured gusts of 36 mph.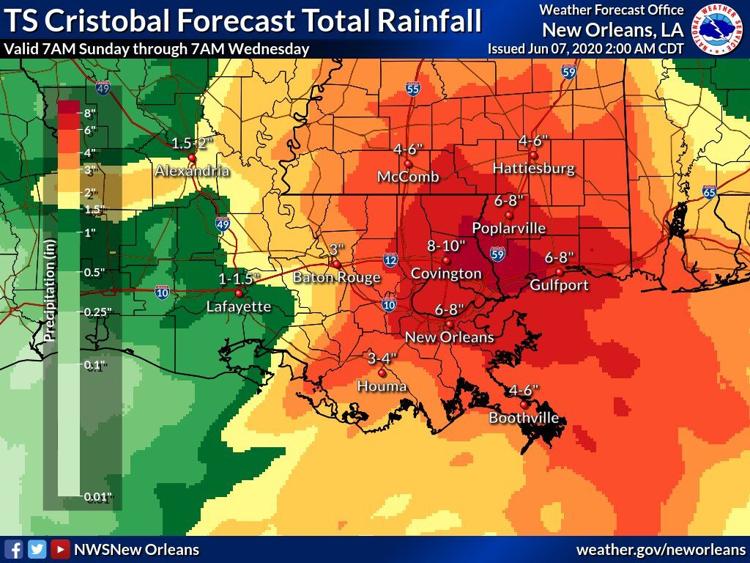 Strengthening expected?
Forecasters don't believe Cristobal will gain any additional strength before landfall, and it should drop below tropical storm strength by Monday morning.
Watches and warnings?
A tropical storm warning remains in effect for all of southeastern Louisiana, extending west to Intracoastal City in Vermilion Parish.
A storm surge warning is in effect for coastal areas from the mouth of the Mississippi River to Ocean Springs, Miss., and a storm surge watch is in effect from east of Morgan City to the mouth of the Mississippi. The Slidell NWS received reports Sunday morning of storm surge on shoreline roads in Waveland and Pass Christian, Miss.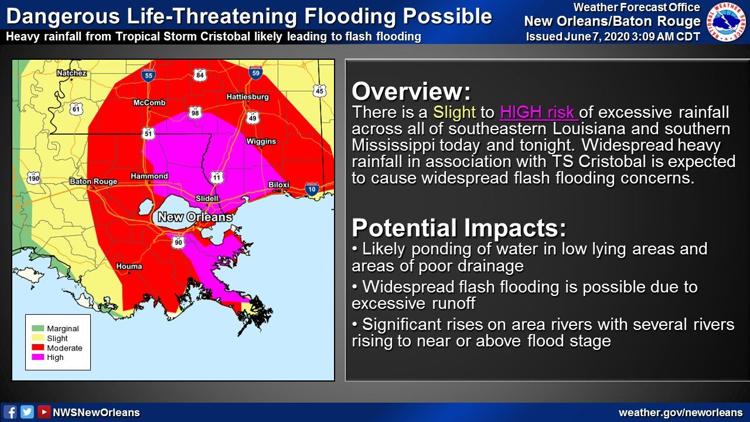 What are the risks?
"The immediate concerns for our area continue to be heavy rain and surge," said forecasters with the Slidell office of the National Weather Service in a morning forecast discussion message. "Wind impacts surely cannot be ruled out as well as some isolated tornadoes."
All of southeast Louisiana and southern Mississippi remains under a flood watch through Tuesday morning. The biggest risk of heavy rain will be east of Interstate 55, where rainfall could total 8 inches, with isolated higher amounts. To the west, rainfall amounts of 3 to 5 inches are expected.
Forecasters have posted flood warnings for a number of locations on North Shore rivers, as the rainfall is likely to cause them to leave their banks by Monday.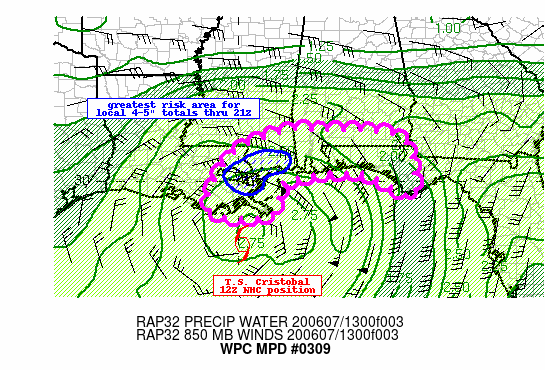 The Weather Prediction Center warned that Cristobal's rain bands over southeastern Louisiana and southern Mississippi could deliver hourly rain totals greater than 1 1/2 inches, with rain totals of 2 to 4 inches likely, and greater amounts are possible, which is likely to produce flash flooding. 
Storm surge has covered U.S. 90 in Biloxi with up to 8 inches of water in both lanes, causing both lanes to be blocked to traffic. 
National Weather Service offices in Slidell and Mobile also have issued several tornado warnings and reported waterspouts along the Mississippi and Alabama coasts on Sunday morning. 
When is the next update?
The next advisory is expected at 10 a.m. from the National Hurricane Center.
Original Source