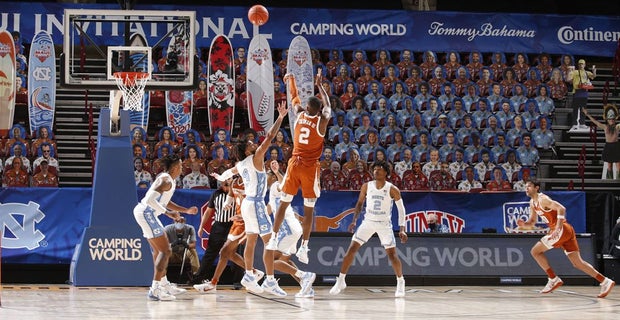 ASHEVILLE, N.C. – Matt Coleman III knocked down a 15-foot jumper from the right elbow with 0.1 seconds left to lift No. 17 Texas to a 69-67 victory over No. 14 North Carolina in the Maui Invitational championship game on Wednesday.
In a game that remained a one-possession affair through the final seven minutes of play, Garrison Brooks gave UNC (3-1) its first lead after halftime on a turnaround jumper with 2:35 remaining. That advantage lasted all of 16 seconds as the Tar Heels connected on just one of their final seven field goal attempts.
Leaky Black tied the game at 67-67 with a pair of free throws with 25.6 seconds remaining to set up Coleman's buzzer-beating heroics.
UNC built an early 15-10 lead as Texas misfired on 13 of its first 16 field goal attempts. Once the Longhorns warmed up, the game turned quickly in Shaka Smart's favor. Texas reeled off a 26-5 run over a seven-minute stretch to take a 36-20 lead with 3:50 remaining before halftime.
The Tar Heels opened the second half on a 12-2 run to cut their deficit to 42-40 with 16 minutes to play, only for Texas to counter with a 14-6 spurt over the next 5:22 to regain its double-digit lead. The back-and-forth trend continued as UNC answered with a 9-0 run to pull within one point with 6:48 to play.
Brooks led UNC with 18 points on 7-of-12 shooting while Armando Bacot notched the 12th double-double of his career with 10 points and 12 rebounds.
UNC shot 41.4 percent from the floor (24-of-58), 11.1 percent from 3-point range (1-of-9) and 56.3 percent from the free throw line (18-of-32) in its first loss of the season. Texas shot 41.7 percent and scored 15 points off 14 UNC turnovers.
The Tar Heels outrebounded the Longhorns, 50-32, and outscored their opponent in second-chance points, 25-13.
UNC fell to 4-3 in the Maui Invitational championship game in eight tournament appearances.
Frontcourt Powers Offense
While the backcourt has scoring potential and is efficient in transition, UNC is at its best in the halfcourt when running the offense through the low post. That was evident in the second half as the Tar Heels worked through the interior to eliminate their 16-point deficit.
Brooks, Bacot, Day'Ron Sharpe and Walker Kessler combined to score 40 points on 15-of-24 shooting.
Sloppy Offensive Execution Early
There's something to be said for the fact that UNC shot 39.3 percent from the floor, 38.5 percent from the free throw line, paired one assist with 10 turnovers and yet only trailed by 12 points at halftime.
The primary reason for the struggles can be found in UNC's backcourt, where freshmen Caleb Love and R.J. Davis combined for eight points on 2-of-12 shooting with one assist and four turnovers in the opening half.
Love finished with five points on 2-of-13 shooting, while Davis scored 11 points on 3-of-11 shooting.
Freshman Five
With Texas leading 56-50 with 9:07 to go, Williams subbed in Puff Johnson for Leaky Black, which was notable given that it put five true freshmen – Sharpe, Kessler, Kerwin Walton, Davis and Johnson – on the court together for the first time this season.
The lineup lasted all of 82 seconds, but outscored its opponent, 2-0.
Up Next
UNC will take a breather this weekend before traveling to Iowa for a matchup with the third-ranked Hawkeyes on Tuesday in the ACC-Big Ten Challenge.
Original Source