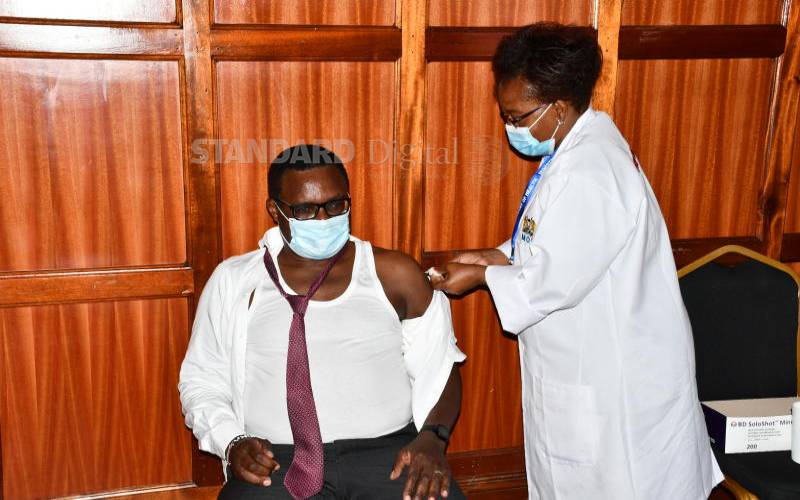 The Ministry of Health has included people who are 58 years and above in the ongoing Phase One Covid-19 vaccination.
Chairperson of the Covid-19 Vaccine Deployment Task force Willis Akhwale said that bracket "accounts for 60 per cent of our recorded deaths". He urged political, religious and community leaders to take the jab and boost confidence in the overall vaccination process.
This change comes as Kenya is facing a third wave of the Covid-19 pandemic that has stretched the country's health system, especially for critical care services following increased hospitalisations and deaths.
Persons aged 50 and above were scheduled to start getting the jab in the second phase of the rollout, which was to start in June this year. This second phase also included persons with underlying conditions like diabetics and those with high blood pressure who are also at risk of severe illness and death if infected with the virus.
In the update by Dr Akhwale, however, there was no mention of individuals with underlying conditions.
Teachers, military officers, prison officers, national police, immigration officers and healthcare workers were selected to be in the first phase.
But how come Kenya is experiencing a third wave and not the neighbouring Uganda?
Bernhards Ogutu, a senior clinical researcher at the Kenya Medical Research Institute (Kemri), said the third wave has been triggered by a marked laxity in adherence to the Covid-19 protocols as the economy opened up.
Dr Ogutu singled out Nairobi as the epicentre of spreading the third wave. Recent figures from the Ministry of Health indicate that out of the 47 counties, the capital city leads with cases and positivity rate.
On Wednesday, Health Chief Administrative Secretary Mercy Mwangangi said in the previous nine days, Nairobi has had 5,718 cases compared to six other counties leading in numbers, namely Kiambu (888), Nakuru (626), Machakos (414), Kajiado (199), Nyeri (100) and Kericho (58).
"Nairobi's contribution to this positivity is a staggering 57.7 per cent," said Dr Mwangangi.
Ogutu said Nairobi, being the main driver of the disease in the country, means that transmission will be higher in the country as "there is a lot of traffic that passes through Nairobi, which is an advantage, but when it comes to pandemics, this becomes a big risk".
While the third wave has gained traction in Kenya, the situation is no better in Tanzania, with Uganda faring better after putting in place measures way before the pandemic gained root.
Ogutu said the government, through Kemri, was carrying out genetic sequencing of the virus to find out if there are any more new variants in the country from other regions or from Kenya.
He said the South Africa and United Kingdom variants have been found in the country, but the numbers were low.
Original Source